One more season starts and, as usual, we have updated our data base with fresh details, both for the just finished season – winter 2013 – and for the new season which now starts – summer 2014 – for you to be able to use our Airport Statistics web tool.
We have also spent some time using this tool and, going through the Canary Islands in particular, reached some conclusions which may be of your interest: The Canary Islands increase offer to their main destinations.
Lanzarote
The number of seats offered by the airlines from Lanzarote airport increased by 22% in Winter 13 with regard to Winter 12, from 1.16 to 1.42 million. Out of these 1.42, 0.5 million seats were scheduled to UK destinations.
In fact, analysing the figures per destination, we noticed that the availability to the UK increased by 34.7%. The following graph has been produced to compare the changes from winter 2012 to winter 2013 in every British destination.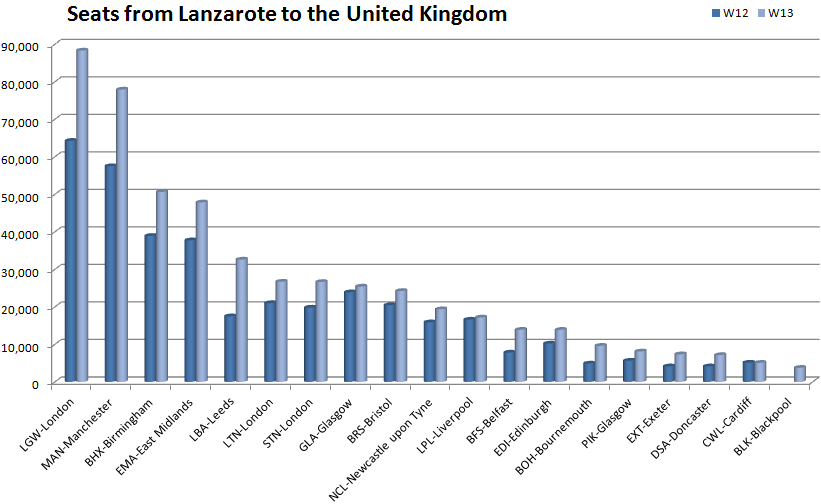 Gran Canaria
Likewise, Gran Canaria airport increased the overall availability from 2.69 to 2.98 million seats, which is 10.8% more. Out of those 2.98, 0.55 million seats had a German destination, while the availability in winter 2012 was 0.40 million seats. This results in an increase of the availability from Gran Canaria to Germany by 35.8%.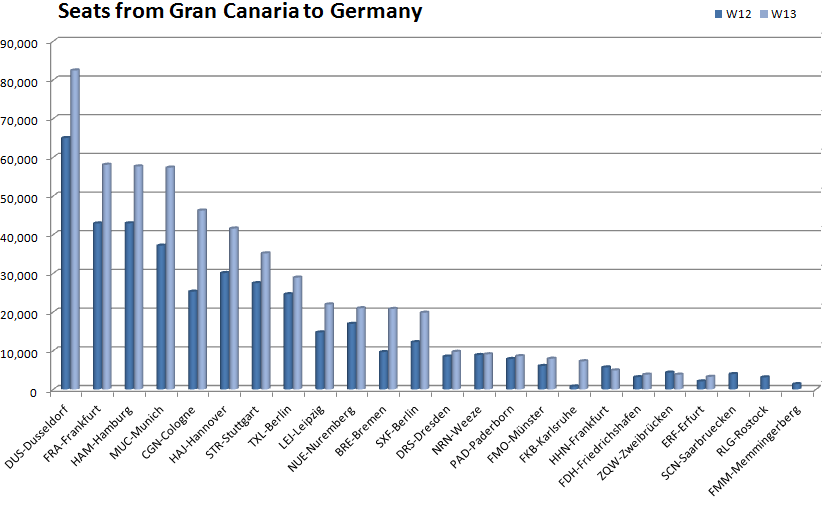 Tenerife South
The overall availability in Tenerife South increased by 12.7%, from 2.20 to 2.48 million seats. Out of those 2.48 million seats, 0.87 million had a destination in the UK. The increase here was not as high is in Lanzarote though, but it is also significant: 16.5%.
It is worth noting the big increase for LGW–Gatwick which is related to the new Norwegian base in Tenerife in the winter 13 season.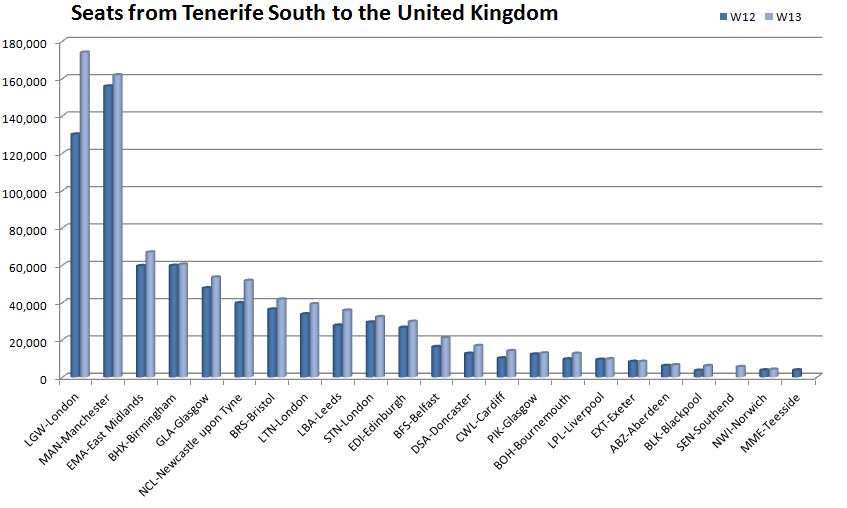 Fuerteventura
Fuerteventura offered 0.98 million seats in winter 12 and increased the availability to become 1.10 million in winter 13. If we look at the German destinations separately, there were 0.30 million seats available in winter 12 and they become 0.37 million in the just finished winter season, increasing the amounts by 24.2%.